The Community of Cassava Piece is located in uptown Kingston, as part of Constant Spring, at the left and right hand side of the Constant Spring Gully.
It is what some people call an 'uptown ghetto': a structurally underdeveloped, violence-ridden community with zinc fences, shacks, small stony roads, many children, no playgrounds and few opportunities.
In this community, we successfully established a Education Center on the compound of the 'Old Clinic' at 5 Cassava Piece Road. The building was severely damaged by a hurricane then left vacant and unused for many years.
The HELP Jamaica! Education Center – now CDEC
Between 2010 and 2011, we renovated and refurbished the building then established a library and computer center which was heavily utilized by the community as well as by the surrounding communities. Children and adults came to the Center on a daily basis and enjoyed free access to books, computers plus a variety of after school programs and adult classes.
Supported by the German Embassy in Jamaica as well as numerous sound systems, artists, promoters and individuals who donated generously to help us put our vision into reality, we had been able to create a place to read, learn, debate, paint, do music, explore talents, develop self-esteem and personal skills.
Our Vision for the Center when we just started was something 'small' like a space for the children of the community, a room with a small library, board games, tables and chairs, paper and pens and just a single person to open the Center in afternoon hours.
But we were overwhelmed by the numbers of children coming on a regular basis and just after a few weeks we needed a team of volunteers from the community to manage the daily activities.  Parents started to ask for homework assitance for the kids, and later they inquired if we could start run classes for adults as well. We were happy to assist!
So just after one year we had to build another room since we had to accommodate 70-120 children coming on a daily basis and another 40-100 adults for the more and more popular evening classes. In peak-times we even had to ask for a third classroom in the neighbouring school to manage the number of participants in the evening classes for the adults.
The team was growing, so was the project, coming from a place for children only – to an all-age Education Center with certified classes and courses, computers, summer school program and lots of daily activities and offerings. Opening hours were expand to 10am-9pm (11 hours) on five days a week!
Offerings at the Education Center
The dedicated team not only teached basic reading and writing skills, maths, english, social studies or offered certified computer courses, but also a variety of creative and recreational programs, workshops, skill trainings, supervised homework support as well as counselling and guidance.
We had a well stocked library, learning materials and offered free internet on more than 25 computers. Our dedicated team of young people under the supervision of professionally trained staff served as positive role models and inspired the youth.
Encouraging the members of the community to discover and develop personal talents and skills was one of our main aims. This increased their chances to find a job, inspired them to become entrepreneurs or supported them in their aim towards higher education as an alternative to a life determined by poverty, violence and crime.
We offered homework assistance, reading and literacy programs, introduction to computer skills, arts and craft and various recreation programs and activities.
Classes and services provided free of cost at the Education Center:
Guided Homework Assistance (daily from 2-4pm)
A professional teacher provided homework assistance to students from all grades, assisted by staff and volunteers. Special attention was paid to slow learners.
We always tried to ensure that homework is finished before the kids started to attend other activities.
Regular Classes
Reading & Writing
English, Maths, Social Studies (CXC-Preparation)
GSAT Assistance
Quiz, Spelling, Knowledge
Basic Computer Skills
Certified Computer Classes (Adults)
Art, Craft & Sports
Drama, Poetry, Dance & Music
Sports (football, netball etc.)
History and Heritage
Discussion and Rhetoric
Gardening
Outings & Tours
Trips to sport events, exhibitions, theater etc.
Mentorship and Parenting
Anti-Violence Programs
Conflict Resolution
Parental Advice
Skill Transfer
Financial Workshops (Budgeting)
Various Craft Workshops (Jewelry Making, Arts, Decoration etc.)
With the beginning of 2017 the Education Center in Cassava Piece became independent and is now registered as CDEC (Cassava Piece Development & Education Center). We agreed to hand over responsibilities to the local team & Board of Directors after successfully establishing and solely funding the Center for more than six years.
We intended to function as a main sponsor for the Center from 2017 on, to help maintain the good work, but after several problems with the local Chairperson and missing reports for monies sent in early 2017, we unfortunately had no other chance than to cancel all further financial support due to the lack of professionalism.
Have a look at these '10 Amazing Facts' about the Education Center and you will understand why we are very proud about the achievements in Cassava Piece during the years 2010-2016.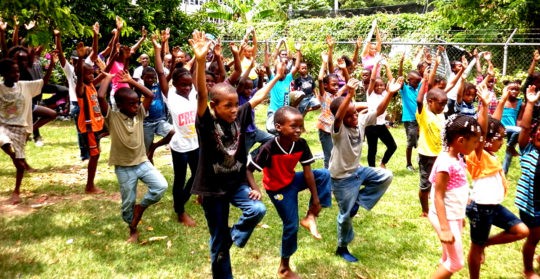 5th Anniversary & Opening Of New IT-Unit
Solar Project with German Embassy

Opening Of The Education Center – 02/2011