Alpha Institute
Registered with the Ministry of Education, Alpha Institute is operated by the Religious Sisters of Mercy
who are committed to helping young men in need of employment and life skills training.
Mission
Alpha Institute's mission is the empowerment and personal transformation of young people through education and skills training. Most of their students reside in inner-city communities where social conditions are very challenging. The training program at Alpha is designed to generate holistic development and career advancement in a variety of relevant employment areas.
Alpha Institute is licensed by the Ministry of Education and follows a special curriculum and academic programme in order to incorporate a category of students who are 15-19 years of age.
Alpha Institute provides a caring and committed environment to youth in need of educational, vocational and life skills training.
Trade training at Alpha is focused on young men 16-18 years old who are in need of not just learning a skill but also a supportive community committed to the social, educational and vocational needs of its students.
Trade Training Courses
Music Performance & Music Technology
Barbering
Wood Working
Landscaping
The benefits of an Alpha education include:
HEART/NTA certification
City & Guilds exams
Award-winning athletic program
Award-winning music program
News:
Below you'll find selected news about our support and involvement at Alpha Institute.
Screenprinting Project
Alpha has a screen printing facility on their premises which has been used for training and production. With the beginning of the 2018/19 school term, HELP Jamaica! is financing the position of a screenprinting teacher training and entrepreneurship in the screenprinting department.
This will allow Alpha to introduce youth to the craft of screenprinting, enhance future sales of their own merchandise department as well as opening up their screenprinting services for local businesses and corporate orders.
This will help generate funding for the school and shall develop long time sustainability of the screenprinting department.
We look forward to expanding the program to offer screenprinting workshops to train young fashion-entrepreneurs and to give the wider community opportunities to improve their business and create a creative hub for future growth.
In the making… Music Student Exchange
Together with the Freedom Sounds Festival Promoters, we are planning for the day when we can invite a group of Alpha Music Students to travel and perform in Germany/Europe in 2020. More infos to be added soon…
Alpha Boys Shop – Support!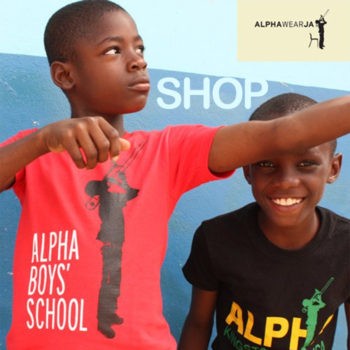 All screen printed products are printed on campus by Alpha screen printing staff and students. Every tee shirt purchase directly supports training for youth in need of services. Alpha Boys Shop
Alpha Boys Radio – Tune in!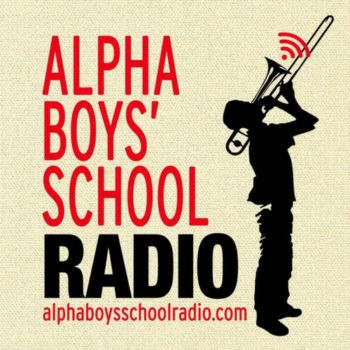 Alpha Boys School Radio is a 24/7 streaming radio station. Every song on the station includes at least one past or current student!
Great Concept & Great Music!
Alpha – A Great Jamaican Success Story
The Alpha Boys School in Kingston has produced some of the finest musicians to come out of Jamiaca. Founded in the 1880s by Sisters of Mercy nuns, it has been the nursery for the luminaries of Jamaican jazz, ska and reggae. Four of the original Skatalies went there, Tommy McCook, Lester Sterling, Johnny Moore and Don Drummond as well as countless other great singers and players.
The list reads like a Who's Who of reggae: Johhny Osbourne, Desmond Dekker, Yellowman, Leroy Smart, Rico Rodriguez, Leroy 'Horsemouth' Wallace, Eddie 'TanTan' Thornton, Owen Gray, Bobby Ellis, Tony Gregory, Floyd Lloyd Seivrieght, 'Deadly' Headley Bennett, JoJo Bennett, Winston 'Mr Fix It' Francis, Karl Bryan and Cedric 'Im' Brooks all attended Alpha. In the jazz world, Joe Harriott, Bertie King, Wilton and Harold Gaynair, and Dizzy Reece.
Also, the first ever black man to conduct the London Symphony Orchestra, Dr. Leslie Thompson, back in the 1940s was an Alpharian. Alpha boys were generally either orphans, wayward children, or from very poor backgrounds… although Alpharians are keen to point out that not all boys who went there were problem kids, some just went because it was a great school!
The Alpha Boys set the benchmark for the standard of music coming out of Jamaica, helping send reggae into orbit. They worked behind the scenes in the studios of Kingston as session musicians and arrangers for literally thousands of classic and lesser known tracks. Even the unofficial Jamaican national anthem and possibly the most famous horns riff in the whole of reggae music, the Abyssinians' Sattamassagana was arranged by 'Deadly' Headley Bennett who has been honoured by his country with an Order of Distinction (O.D.).
The school is always struggling to make ends meet, so if you feel moved, please forward a donation of either cash or an instrument, and help continue Alpha's legacy of providing the backbone for great music in Jamaica.
Contact Information:
26 South Camp Road
Kingston, Jamaica
Phone: +1 876-928-1345
Email: alphaboysschool@gmail.com
Web: Website / Facebook / Instagram