If you follow HELP Jamaica! for a while now, you know that we are doing our best in supporting the wonderful works done at the ALPHA School of Music.
In the past we helped Alpha to start a screen-printing workshop for the students, we financed the building of the first sound-proof rehearsal room for ensembles, as well as the purchase of needed music-equipment and tents, used for outdoor practicing and performances – the list goes on…
In May 2022 we signed a agreement to support the founding of The Alpha Community Band – a concert band with a special attention on wind, brass, and percussion instruments.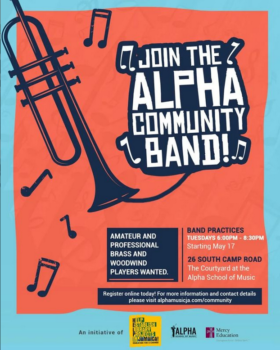 Background
Wind and brass instruments are integral to Jamaican popular music, especially Ska. During the 1970s-80s Jamaica lost many wind and brass players to migration. Brass suffered the most from this brain-drain and there has not been a specialist brass instructor based in Kingston since the 1980s.
The Alpha Community Band, led by Band Director Peter Ashbourne is focused on strengthening brass musicianship and and creating an outlet for non-professional musicians for musical expression in a supportive, welcoming environment.
The Alpha Community Band
Providing wind and brass musicians access to specialized and professional training
Creating networks and connections between wind and brass musicians
Exposing the community to quality live music performances of a variety of genres utilizing instruments that have been integral to Jamaican popular music
Exposing music teachers to wind and brass teaching methodologies
The Alpha Community Band is composed of primarily non-professional musicians of all ages and genders (12 years and upwards) from Kingston, St Andrew, Portmore and surrounding areas.
They meet for praticing/rehearsals at the ALPHA School Of Music every Tuesday 6pm-8:30pm during the academic year and host at least two performances. These performances will take place primarily in public spaces to maximize community involvement.