Big up the Kingstone Sound & Label!
This was the first time a music label used their works in order to support HELP Jamaica!!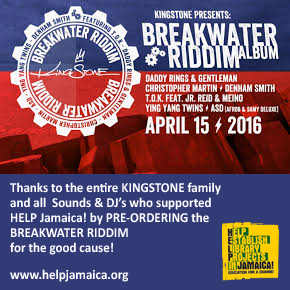 Of course this initiative would not work if there wasn't Soundsystems and DJs setting a good example by donating for the BREAKWATER RIDDIM and towards the good cause. So far we received 85,- EUR to support our work in Jamaica according to the motto:
Education For A Change!
That's why we give MAXIMUM RESPECT to:
• Biomassa Sound, Ticino (CH) Biomassa Sound
• Fabi Benz/ City Lock, Berlin (GER) Fabi Maag
• Firesound, Dresden (GER) Firesound
• Flipp/Mad Grinnaz, Duisburg (GER) Flipp Mad Grinnaz
• G-Rilla Sound, Sursee/ Lucerne (CH) G-RILLA Sound System
• Good Vibe Sender Sound, Trier (GER) Good Vibe Sender Sound
• Joker/Black Gold Sound (GER)
• Kuntabunt Movement, Wuppertal (GER) Kuntabunt Wuppertal
• Papa Raul, Udine (IT)
• Treasure Isle Sound, Vienna (AT) Tom Tam
• Zapata Soundz, Karlsruhe (GER) Zapata Soundz
…and of course to the entire KINGSTONE family for the great idea and initiative. Your committed and generous support over all the years is extraordinary.