Seven Years, making moves, coming back full circle…
Manifesto|Jamaica and HELP Jamaica! have a lot in common: we are both very dedicated, yet young, NGOs committing our work to empowering youth, in order to open up opportunities and develop personalities. Both organizations began doing projects in Jamaica around the same time in 2010. Manifesto Jamaica was our first partner and supporter when we opened the Education Center in Cassava Piece in 2011. Members of their team came every Saturday to volunteer, read and do homework with the children.
Over the past seven years we never lost track, keeping the link while noticing successful work and positive progress with the various projects on both sides.
So, the next step was inevitable and we as team HELP Jamaica! decided to support Manifesto Jamaica's activities and projects on a regular basis. It felt good seeing each other making moves with a noticeable impact on our respective communities, now we are coming full circle and joining forces again.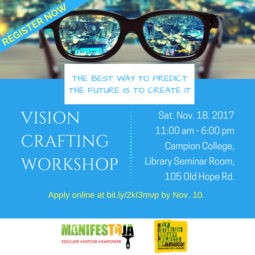 Starting with the 'Vision Crafting Workshop', HELP Jamaica will function as a funding partner for Manifesto Jamaica initiatives in the areas of education, youth and community development . We also have plans to cooperate with Manifesto Jamaica on some bigger joint projects in the future!
Unity is strength!
Education For A Change!