Support is coming from France in a very arty way!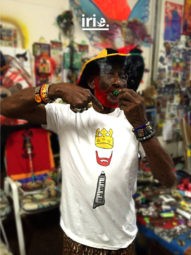 Thanks to Irie Design, for sharing 20% of the profits of this wonderful shirt with HELP Jamaica!.
He's a legend, a genius, an influence.
Reggae, dub and modern music would be different if he hadn't been there.
We are extremely proud to have the support of Lee Scratch Perry in flesh and bones. He's wearing the shirt we made to pay tribute to 3 major artists: King Tubby, Augustus Pablo and Lee Perry.