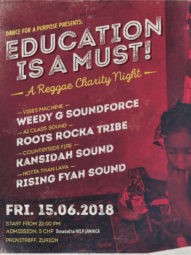 Big Up & Thanks to all involved in the staging of the 'Dance For A Purpose – Charity Night' in Zurich, Switzerland!
The promoters, the sounds and all the helping hands in the background who made it possible! We just received a donation of 431,49 EUR (503,- CHF) from the charity event!
Education For A Change!
Together we can make a difference!