HELP Jamaica! is now supporting the 'Freedom Skatepark' in Bull Bay – which was built and is operated by the Concrete Jungle Foundation – by financing their 'Edu Skate Programm'. The main reason for our support is not only the professional way the Skatepark is run – but what it is offering, because it is so much more than just being a space where youth can skate…
Providing Jamaican at-risk youth with a positive, constructive and healthy outlet to avoid getting tangled in criminality and violence is the heart of this project.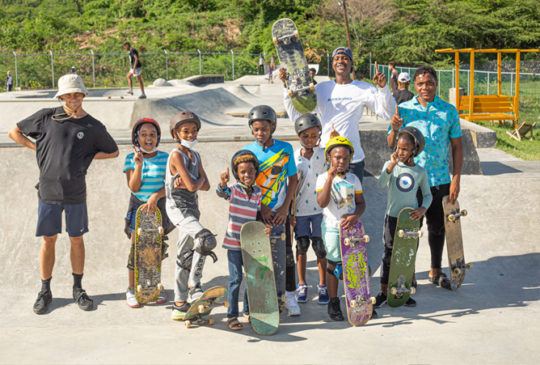 Located just outside the Jamaican capital in 8 Mile Bull Bay, the 1300 sqm Freedom Skatepark was built over the course of 7 weeks in early 2020 by some 40 international and local volunteers.
On-site you will find a youth center which is offering homework care, as well as occassional computer-  and drumming classes along various other activities and a communal garden area.
These offerings alone makes it special, but there is more…
The 'Edu-Skate Programme' is a positive youth development programme that utilizes skateboarding, group discussion and community activities to empower and provide positive psychology education to underserved children.
Main group sessions are also complemented by workshops, contests and field trips with the children. The programme is accessible to anyone between the ages of 6-16 in the communities around the skateparks.
Benefits:
Edu-Skate's aim is to stimulate positive personal development through fostering life-skills. The programme provides a safe environment for children to socialise, learn and grow as a person.
Besides learning how to skateboard, the beneficiaries of the programme are exposed to different practical and psychological tools that help them in their development in life, and in how to relate to others in a positive manner.
Learning life-skills
Edu-Skate utilizes skateboarding (and the life skills embedded in the activity and culture) to promote positive life skills. Every week there is a focus on a different life-skill which the skate lesson revolves around. The Edu-Skate curriculum consists of 11 different life-skill:
A Positive Mental Attitude (if you don't try, you don't learn)
Awareness (paying attention to what you're doing + what's happening around you)
Confidence (believing in yourself, challenging yourself step by step)
Respect (acknowledging each other's efforts and accomplishments)
Cooperative Learning (teaching others and learning from others)
Resilience (getting back up after you fall down)
Perseverance (not giving up until you succeed)
A Supportive Attitude (encouraging each other)
Courage (doing something that scares you)
Creativity (creating something you imagined)
Teamwork (working together to do something you couldn't do by yourself)