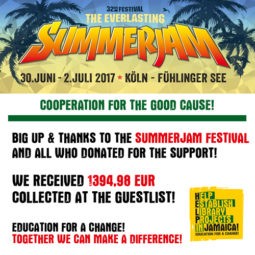 Team HELP Jamaica! would like to say Big Up & Thanks to the entire Summerjam Team once more. The 2017 edition was just another blast, great hospitality and support. We had a wonderful time sold a lot of our merchandise, had some good conversations and received a lot of donations for our tombola.
Big Up & Thanks to the Summerjam Festival for collecting donations at the guestlist for HELP Jamaica! and of course to all persons who supported HELP Jamaica! and donated at the guestlist! The promoter succesfully collected 1394,98 EUR at the guestlist. And we received another 550,- EUR from Sponk Graffiti Design who painted/sprayed this wonderful lion which was auctioned by the Festival for the good cause!
Together we can make a difference!
Education For A Change!