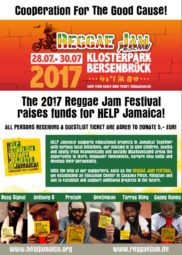 Thanks to the Reggae Jam Festival for another wonderful weekend full a vibes and generous people. Special thanks to all who donated at the guestlist towards HELP Jamaica! and all who supported our Charity Tombola! Big up  Sheriff & Joanna and the entire Reggae Jam Crew for the great support and hospitatilty!
We received 1633,54 EUR from the guestlist donations and a very generous additional donation of 3000,- EUR from the promoter aka Sheriff. Million thanks for the everlasting support from day one!
It was a pleasure as always, Team HELP Jamaica! is looking forward and counting the days until the next years edition already.