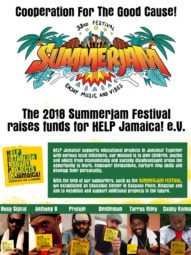 Record Breaking Guestlist Donation!
Big Up & Thanks to Contour-Music as the promoter of the Summerjam Festival, this year we received a total sum of 3158,75 EUR (!) from the guestlist donation!
Fantastic Record! Million thanks to the entire Summerjam Team with a special shoutout to Sandra for the great support over all the years! Last, but of course not least, big up all who donated at the guestlist, supported our charity tombola and visited us on the Festival grounds at our info-booth!
Thanks Summerjam Festival 2018, Team HELP Jamaica! had a great time!
Together we make it happen – Education For A Change!