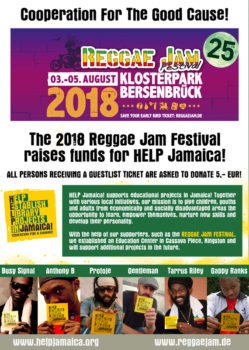 Thanks to Sheriff & his Team, Team HELP Jamaica! experienced another wonderful Reggae Jam with very successful fundraising activities. This year we were able to introduce the brand new Charity Calender on the Festival as we started early with the production of our annual best-seller. What should i say, people just loved the Calendar. Go check it for yourself right here in our Shop.
Additionaly to our regular activities on the Festival, we helped to organize a poster exhibition with our friend Maria P. from the International Reggae Poster Contest this year. The exhibition feautured an auction on the Sunday where we could help to fundraise 500,- EUR for the Alpha Boys School.
After the Festival we received a donation of 1428,01 EUR coming from the guestlist donations! Big up & thanks to each and all who supported us at the guestlist! The Promoter generously added a personal donation of 1000,- EUR.
Big up & Thanks for the dedicated and generous support and great hospitality from day one. Reggae Jam & HELP Jamaica! spells F.A.M.I.L.Y.!