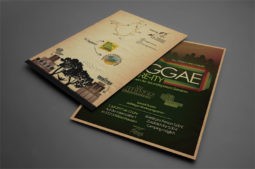 Big up & thanks to Micha & Olli, the organizers of the Reggae Share-Ity event and to all participating soundsystems & artists, all the helping hands in the background and last but not least to all who came out supported the Charity-Event and celebrated two days of soundsystem culture!
We just received a donation of 1.000,- EUR from the event!
Million thanks for the support. Together we do make a change!
Those who made their way to Witzenhausen enjoyed great musical sessions, good food and family vibes all weekend long in a beautiful green environment, next to an old castle. Lovely settings and heavy musical treats from Irie Ites Sound  & Roots Descendents who strung up their soundssystems and 'bass-massaged' the massive together with Crucial Vibes, Sankofa Sound, Pfeiffen Sound, Don Mykal & Ras Timbo. Roots, Steppas, Dub, Ska, Digital, Modern Roots – all kind of styles, all day and all night long…
You really do not want to miss the Reggae Share-Ity 2019 edition, trust me. Great vibes for the good cause, thanks for the dedicated support!
But read the full story from an eye & ear wittness here (German language).