We are happy to announce that starting April 29th 2019, we are offering another Homework Assistance Programm.
Partnering with the Life Yard Team & Studio Dan we will offer a daily opportunity to the children of Parade Gardens in Downtown Kingston to get help with their homework.
Under the title 'YARD WORK' we provide a daily (Monday-Friday) one hour per day homework centre to help "at risk" Jamaican youth between the ages of 6-17 with their school assignments. Ranging from daily homework to school-based assignments (SBA) for CSEC students.
The programm will offer the necessary expertise and guidance to help the youth with their assignments and school projects through the hiring of three facilitators and volunteer partnerships with Kingston based Teacher's colleges. Providing material and information needed for the youth to complete all assignments. Free access to three functioning laptops and free WIFI services. Printing services and material; folder paper, file jackets etc.
All in a safe space for youth to express themselves while rewinding from a long day at school. Thus, providing a channel of empowerment and mentorship.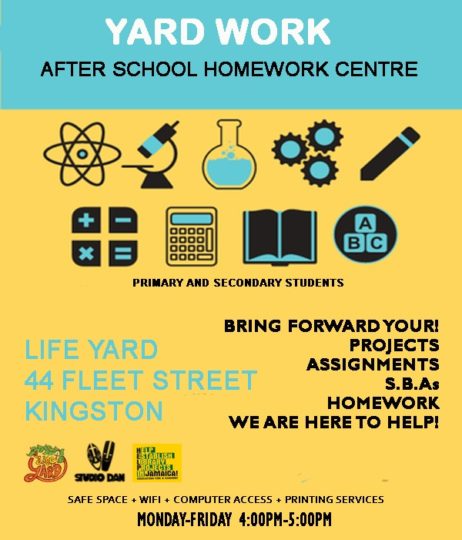 Big up to Studio Dan a.k.a. Danijah and the entire Life Yard Team!