Christmas soon come…. Get your perfect Christmas gift from early!
Give out the calendar to somebody as a present and make a donation towards HELP Jamaica! at the same time!
This year we once more teamed up with various international photographers both professionals and amateurs who contributed their beautiful pictures towards our 2020 Charity Calendar edition. The 14 wonderful and stunning pictures are displaying the many beautiful facets of Jamaica: People, Nature, Landscapes, Everday Situations or Events. All photographers involved, as well as the graphic-designer Nico from 'Liebetanz-Design.de' never hesitated to dedicate and contribute their work to the good cause and free of costs. Million Thanks!
Get your calendar right here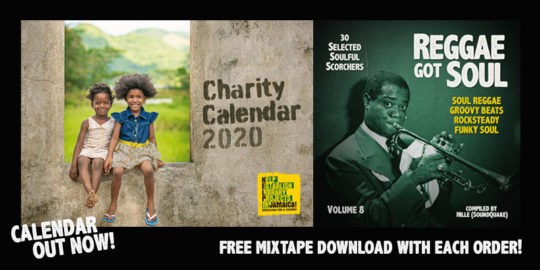 Beautiful calendar, 14 pages (size DIN A3) offset-printed. Carefully shrink-wrapped in transparent foil and delivered in special cardboard-box to protect and ensure secure shipment. We ship worldwide!
Special Offer: Distribution Deal (free graphic art posters and CD!)
Help us to get the Calendars distributed economically.
You will receive 10 Calendars (all in seperate cardboxes) for you and your friends. Your friends save the delivery fee and you get a brand new Reggae Got Soul Vol 8. mix cd (physical copy) as well as two beautiful graphic-art posters for free!
Aint that a win-win situation!? You support our distribution and the selling of the calendar and in return you get another three beautiful christmas gifts!