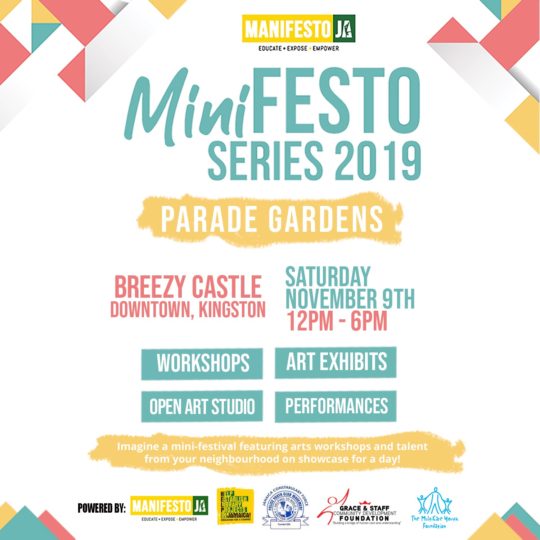 MiniFestos are creative platforms for community building and cooperation. They pop up where community leaders, emerging talent, and Manifesto Jamaica's network of social workers and creative professionals collide. MiniFestos feature curated introductory-level entrepreneurial and creative workshops, performances and exhibitions.
The MiniFesto workshop menu is designed to reinforce '21st century skills,' and includes topics like: Creative Writing, Contemporary Dance, Parkour, Unlocking Talent and Business Basics for Social Innovators. Imagine a mini-festival featuring works of art and talent from your neighbourhood on showcase for a day.
The MiniFesto events are offered and organized by Manifesto Jamaica & empowered and financed by HELP Jamaica!.
Coming up are MiniFesto events in Mona Common (Sat, November 30th), Standpipe (Sat, December 7th) & Tivoli Gardens (Sun, December 22nd).
On Saturday, November 9th a MiniFesto event was held in the community of Parade Gardens in Downtown Kingston with offerings like Story-Telling, an Open Art Studio, Skateboard's & Rollerblades, an Event Planning Workshop, Talent Shows and lots of Performances. Find video & pictures below (all photos taken by Michael Witter).
Coming up next: