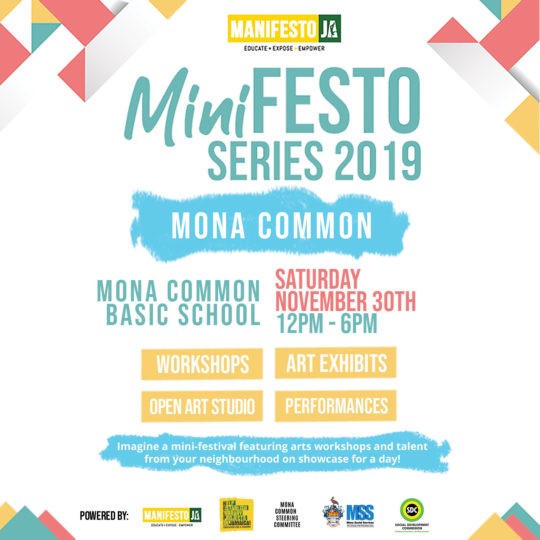 Last year we financed four Minifesto Events from our longtime friends and partners from Manifesto Jamaica, a youth-powered social enterprise, whose philosophy is education, exposure and empowerment through art and culture.
MiniFestos are creative platforms for community building and cooperation. They pop up where community leaders, emerging talent, and Manifesto Jamaica's network of social workers and creative professionals collide. MiniFestos feature curated introductory-level entrepreneurial and creative workshops, performances and exhibitions.
The MiniFesto workshop menu is designed to reinforce '21st century skills,' and includes topics like: Creative Writing, Contemporary Dance, Parkour, Unlocking Talent and Business Basics for Social Innovators. Imagine a mini-festival featuring works of art and talent from your neighbourhood on showcase for a day.
The MiniFesto events were offered and organized by the Manifesto Jamaica Team & empowered and funded by HELP Jamaica!.
On Saturday, November the 30th 2019 at Mona Common Basic School around 120 community citizens engaged in the following offerings: All-day Art Studio activities & Storytelling for the younger ones, Business Basics for Social  Innovators and Artist Management Workshops for the adults (both had more than 20 participants), West-African Drumming Workshop for all ages, a Talent-Showcase with about 30 performers.
Following you'll find pictures and a video to visualize the great vibes and workshops (all photos taken by Michael Witter).