Markus Eid felt in love with Jamaican music, has travelled to Jamaica very often and has been a supporter of our charity organisation HELP Jamaica! e.V. for years, before he unfortunately and very surprisingly passed away in 2019.
His family and colleagues from his workplace collected funds – then contacted us with a very generous donation – with a request to invest the funds in an educational project that would have longevity and would serve to remember his name as well as his love for Jamaica.
This is how the idea was born to build and furnish a very much needed group practice room for the music-students at the Alpha Institute (formerly Alpha Boys School), that should carry his name: The Markus Eid Practice Room.
How important is practicing to the music trade? It is a priority in the Alpha program, and as trumpeter Louis Armstrong once said, "If I don't practice for a day, I know it. If I don't practice for two days, the critics know it. If I don't practice for three days, the public knows it."
For the first time at Alpha, the Markus Eid Practice Room will allow ensemble practice sessions to take place while other educational activities are happening nearby.
The lockdown due to the Corona-virus pandemic slowed down the construction process last year, but now we finally can report the successful project completion. The final beautifying works by our good friend Matthew McCarthy aka 'eyedealist' are finished and the info-poster is framed and ready to hang up in the newly built room.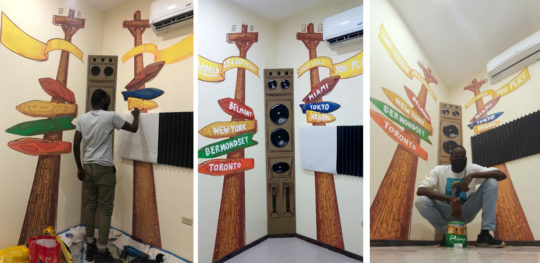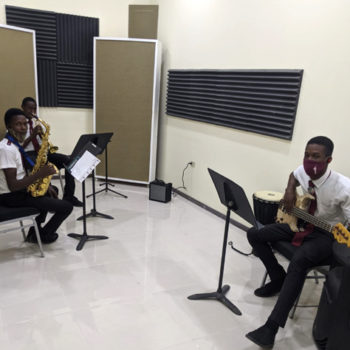 We are happy to show you the photos of the finalized project, proud that we were able to help build something that the ALPHA Institute needed so much, which will keep Markus in our minds forever and can be visited by his family and friends at all times. A group practicing room that will help the students to always keep in mind that music has the power to take them to far places if they learn their trade right and that it touches people's hearts in all corners of the world, just as it touched Markus Eid's.
With the help of his family and colleagues, Markus left something that will open up opportunities and that shall motivate all future students at Alpha Institute.