The kids and youth department of the German football club ​​FC St. Pauli – 'Die Rabauken' – the reggae/ska band Yellow Umbrella feat. Longfingah and the non-profit organisation HELP Jamaica! bring love to the streets and to Jamaica with a joint action.
The FC St. Pauli Rabauken collected jersey sets and footballs for young people in Jamaica. A country where football is very important and played on every street corner, but where many youth can't afford jerseys or balls. HELP Jamaica! supports educational projects as well as sports, art and culture in Jamaica and sent the collected donations as sea freight to Kingston and had them distributed to various schools across the country. The band Yellow Umbrella wrote a tune together with reggae artist Longfingah and included footage of the colaborated action to the music-video (below) to help promote and create more awareness for HELP Jamaica!.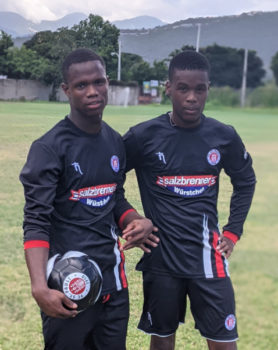 If you want to bring love to the streets in Jamaica, please support HELP Jamaica! and donate. Your support is needed more then ever, as the pandemic is having devastating consequences in Jamaica, with the tourists staying away – the main source of income for the country.